As a business, we are committed to environmental sustainability. We recognise the importance of good soil health and we work with our customers to help them farm responsibly and optimise fertiliser use.
Agriculture and food production have a central and critical role to play in the future as the world population grows. With the global population forecast to increase to more than 9 billion people over the next 50 years, fertiliser will be essential to ensuring there is enough food grown to feed the world.
However, it is increasingly important that our industry operates in a responsible and sustainable way. The UK government, as part of its commitments to The Paris Agreement (2016), has targeted net zero greenhouse gas emissions by 2050. With agriculture estimated to be responsible for around 9% of total UK greenhouse gas emissions, our industry must help play its part in fighting climate change.
As a company we are committed to helping farmers farm responsibly, focus on soil health, and optimise fertiliser use accordingly.
Our overall goal is to help reduce unnecessary fertiliser applications by utilising soil testing and tailoring products to the precise requirements of your soil and crops.
We offer a full soil health and fertiliser service, from analysis, to advice and product recommendations: by working with you to understand your soil and crop needs, our FACTS qualified advisors can develop bespoke blends that supply nutrients in a targeted way, helping improve efficiency and return on investment.
To arrange a soil test contact one of our FACTS qualified advisors on 01524 753600 or email fertilizers@glassongrain.co.uk
Over and above this, there are some practical tips that farmers can follow to help use fertiliser in the most economical and environmentally friendly way.
Spread at the right time - If it's too windy to spray, it is too windy to spread as well! Only use fertiliser when the crop requires it.
Undertake regular soil analysis to determine crop requirements
Do not exceed the recommended application rates
Calibrate your spreader
Agriculture has a key role to play in the UK Government's pledge to deliver carbon neutrality by 2050.
Agriculture currently accounts for around 9% of the UK's greenhouse gas emissions and more efficient fertiliser use is just one element in the bid to tackle climate change and reduce carbon footprint.
At Glasson Fertilisers we recognise the key role we have to play and that's why we work with our customers to help drive nitrogen use efficiency and ensure you only apply what your crop needs, and at the right time in the growing season. We constantly strive to stay abreast of industry best practice both in the manufacture and application of our fertilisers.
We monitor the carbon footprint of our manufacturing operations regularly, and data is recorded on an annual basis. In 2021 we recorded a 18% reduction in our manufacturing carbon footprint against 2020. We continue to target further reductions and strive to achieve efficiency at all stages of the manufacturing process.
The carbon footprint information of our products is available upon request. 
All of our packaging is made using 30% recycled materials.
Since 2021 we have been working in partnership with with our bag manufacturers to ensure that we are at the forefront of using packaging that is environmentally sustainable, whilst retaining premier strength and quality. 
Look out for the recycling logo on your fertiliser bags!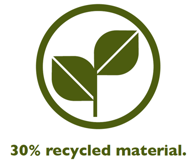 At Glasson Fertilisers we take our environmental responsibility very seriously, and we are fully committed to reducing the impact of our operations on the environment.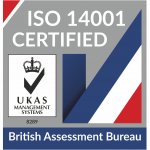 We are fully certified to ISO14001 standard for Environmental Management.
We recognise the impact of our operations on the environment, and by quantifying that impact we can take further steps towards operating sustainably.
The standard allows us to set out our environmental objectives, set targets to improve environmental performance, and implement a framework for achieving them - to which we are independently audited on an annual basis.
A copy of our Environmental Policy is available upon request. 
Please see below for a link to our certification.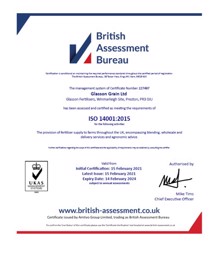 Guided by the UK government's commitment to net zero carbon emissions by 2050, the Agricultural Industries Confederation (AIC) has developed a roadmap for a sustainable UK food chain.
The roadmap outlines the industry's vision for agricultural sustainability, and makes key pledges in support of this, with the backing of the entire industry.
As committed members of the AIC, Glasson Fertilisers has both contributed to the formation of, and fully supports the sustainability roadmap.
The full roadmap can be found by clicking on the image below: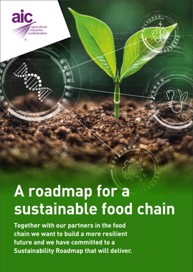 Glasson Fertilisers announce partnership with Green Tractor Scheme.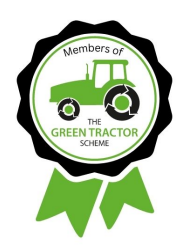 Glasson Fertilisers are pleased to announce our partnership with the Green Tractor Scheme to promote a circular economy within UK agriculture.
Operating a network of independent waste plastic collectors and collection points throughout the UK, the scheme provides a solution for farmers to deal with their plastic waste in a sustainable way. Green Tractor assures that farm plastic recycled through their network is to the highest standard and the necessary education is provided for all farms and agricultural groups to ensure this. As corporate ambassadors of the scheme we encourage our customers to recycle used bags through an approved Green Tractor recycling hub.
Glasson Fertilisers are committed to environmental sustainability, and since 2021 all our packaging has been made using 30% recycled materials. We are fully certified to ISO14001 standard for Environmental Management, and we measure the carbon footprint of all our products and take active steps to reduce the impact of our operations on the environment.
For more information on the Green Tractor Scheme, and to find your local recycling hub, please visit thegreentractorscheme.co.uk